CYCLING SIMPLIFIED: MEET THE GATES CARBON DRIVE
WHY GATES CARBON DRIVE?
Less maintenance.
Performs rain or shine and won't rust.
Smooth and strong.
If it gets dirty, just hose it off – no grease required.
Consisting of two metal sprockets and a high-strength belt embedded with carbon fiber cords, Gates Carbon Drive is a low-maintenance, chain-replacing technology from Gates Corp., the global leader in automotive and industrial belts. Clean, quiet, light and strong, Carbon Drive requires no greasy lube, weighs less than a chain and will not stretch. Due to its low maintenance and cleanliness, Carbon Drive is a technology makes it easier for people to get on bikes.
PRESS RELEASES
Gates and Gogoro Announce Exclusive Strategic Partnership to Accelerate Sustainable Urban Transportation
Gates (NYSE: GTES), the global leader in clean, quiet and reliable belt drives, and Gogoro, a global technology leader in battery swapping ecosystems that enable sustainable urban mobility, today announced an expanded exclusive partnership to accelerate sustainable urban transportation.


Gates Introduces Carbon Drive Moto X9 Belts for Motorcycles and Scooters
Gates (NYSE: GTES), a leading global provider of application-specific fluid power and power transmission solutions – and a pioneer in belt-driven personal mobility – introduces the new Carbon Drive Moto X9™ synchronous drive belt.

Amidst Global Surge in Bicycle Demand, Gates Carbon Drive Launches New Sprockets and Carbon-Fiber Belt Drive Products to the Bike Industry
Gates (NYSE: GTES) is launching a wide range of new products for bicycle & eBike commuters, recreational riders and adventurists alike.
ZH_CN

Gates Unveils Belt Drive System Solutions for Electric Two-wheelers at World's Leading Motorcycle Show
EICMA debut to showcase quietness, longevity, and cost advantages of belt drives versus chains in the rapidly growing eScooter, eMotorcycle, and eBike markets.

Gates to Showcase Cutting Edge Drivetrain Technology for Two-wheelers at 2019 CIMA Show
High-performance belt drives using advanced materials are poised to accelerate adoption of electric scooters, motorcycles and bikes in China and "unchain" micromobility.

Gates Expands eBike Product Range, Pushes into Electric Motorcycle and eScooter Market
Success in bike market paves way for Carbon Drive expansion into electric mobility space.

New Gates Belt Drive Products for Bosch 2020 Urban, Cargo and eMTB Systems
Gates announces Carbon Drive spider assemblies for Bosch Performance Line Speed, Performance Line CX, Cargo Line and Cargo Line Speed motors.

Gates Sponsors Zero in Pikes Peak Hill Climb
Gates is sponsoring Zero Motorcycles and rider Cory West in the Pikes Peak International Hill Climb on Sunday to highlight the advantages of Gates belt drive technologies versus chains on high-torque electric motorcycles such as the Zero SR/F.

Gates Hires Former Bosch Exec Weinert
Weinert will oversee strategic marketing for bicycles, eBikes and global electric mobility.

Gates and enviolo Collaborate to Target Growing High-Speed Pedelec Market
Gates Carbon Drive and enviolo have collaborated on a product re-design to support the fast-growing market for high-speed eBikes, also called speed pedelecs, which require taller gearing to achieve speeds of 45 kilometers-per-hour (28 miles-per-hour).

Gates Introduces new eBike Products for Shimano and Bosch at Taipei Cycle
Gates Carbon Drive will launch a new series of sprockets developed in collaboration with Shimano at the Taipei Cycle Show that are designed for use with Shimano's new Nexus Inter-5E electric bike hubs and STEPS motor.

Gates Targets eBike and Bike Share, Adds Personnel and Expands Product Line
Gates will launch a suite of new products at the Eurobike trade show including a direct-mount crankset and eBike components for recently released Bosch and Shimano mid-drive motors. Gates has also created several new positions within its bicycle division to meet growing customer demand.

Gates Carbon Drive Celebrates 10 Years of Belting Bikes at Eurobike 2017
It has been ten years since Gates Corporation, the world's leading seller of belts for automotive and industrial uses, entered the bicycle market with Gates Carbon Drive.

Gates Enters Chinese Bike Share Market with Launch of Belt Drive 'Baicycle'
Gates Corporation has entered the rapidly expanding Chinese bike share market with the launch of the Baicycle bike share program.

Gates Targets High Volume Urban Bike Market with Expanded Product Line
Gates is targeting the high-volume European urban bike market with a new crankset assembly designed to work with Thun bottom brackets and the most popular geared hubs. Gates will show the S150 crankset, plus new products including longer belts and components designed for Pinion and Rohloff, at Eurobike 2016.

Gates Beefs up Engineering Team with Focus on Cranks and eBikes
Gates Corporation continues to strengthen its engineering and product development team with the addition of two new positions that will focus on areas of strategic growth.

Gates Hires Industry Veteran Chris Vasiliotis to Expand Product Development
Former enviolo product director and internal hub specialist will oversee R&D and target continued growth for Carbon Drive in urban and electric bike markets

Gates Powers into Stationary Bike Market
Gates Corporation is pushing into the growing stationary bike market, with leading brands including Stages Indoor Cycling, Schwinn Fitness and FreeMotion Fitness using Gates Carbon Drive™ belts on their new models for smooth, strong, quiet and low-maintenance performance.

Gates Carbon Drive™ and Schindelhauer Bikes Create Belt-Drive Fixed-Gear Race Team
'Schindelhauer-Gates' to compete in Red Hook Crits, Rad Race series and fixed-gear criteriums and road races in the USA, Germany, England, Netherlands, Spain and Italy.

Gates Carbon Drive Launches Lower Priced Belt Drive for City Bikes
Same carbon technology, designed for relaxed city and urban riding.

Gates Launches 'Carbon Drive Red' Limited Edition Red Belts
Bike style is getting a jolt of red. Gates Corporation, maker of the Gates Carbon Drive™ system for bicycles, is launching a series of limited edition red belts called Carbon Drive Red.

Gates Targets eBikes and Showcases Innovative New Bikes and Pedelecs at Eurobike 2014
Gates Corporation will showcase a wide range of innovative bicycles and electric bikes at Eurobike 2014, as it expands the market for chain-free bikes and pedelecs.

Gates Carbon Drive™ Expands in UK with New Distribution Partnership with Velorution
Gates Corporation's Carbon Drive business unit increases its UK presence, releases a new IGH instructional video, launches a new Carbon Drive Owner's Manual, expands its product line, and signs with a new distributor in Spain.

Gates Carbon Drive™ Electrifies North American Handmade Bicycle Show
Gates partners with Bosch, SRAM, BionX, enviolo, and award-winning builders to create "Custom eBike Showcase" for display at world's largest custom bike show.

Gates Carbon Drive™ Partners with Light Electric Vehicle Association to Push Belt Drive eBikes
Gates is targeting the electric bike market, which is the fastest-growing category for its bicycle belt drives.

Gates Carbon Drive™ Targets eBike Market with New Belt Systems for Bosch, SRAM, MPF, BionX, and Höganäs Motors
Other new products to be introduced at Eurobike 2013 (Aug. 27-31) include Gates cranks and sprockets for Di2 electronic shifters and Pinion gearboxes.

Gates Corporation Launches New Carbon Drive™ Website Highlighting the Lifestyle Advantages of Bicycle Belt Drives
The new site was created to build brand awareness and demonstrate that Carbon Drive™ belt systems make cycling cleaner, easier, and more fashionable.

Gates Partners with Specialized and SRAM on World Bicycle Relief Project
Every purchase of a Source Two bicycle with Gates Carbon Drive and Automatix shifter results in the donation of a bike to rural health workers in Africa.

Gates Carbon Drive Reaches out to Women with Videos that Highlight Advantages of Belt Drive Bikes
Marketing initiative aimed at recruiting new cyclists seeking clean and stylish bikes, minus the grease

Gates Carbon Drive Becomes Official 'Lifestyle Bike' Sponsor of BMC Racing Team
Top pro team receives belt-drive bikes for commuting and errands at race venues

Gates Carbon Drive Creates Cyclocross Team
Team Gates Carbon Drive's goal is to grow the popularity of belt drive technology at the grassroots racing level

Gates Carbon Drive Contest Offers More than $11,000 in Cash and Prizes to Bike Builders at 2013 North American Handmade Bicycle Show
Five winners will be crowned in Belt Drive Bike Design Contest as Gates partners with Shimano and enters second year as official NAHBS sponsor

Gates Carbon Drive Sponsors 2012 North American Handmade Bicycle Show
Sponsorship includes Belt Drive Bike Design contest that will award $8,750 in cash and prizes to builders who design the most innovative custom bikes with Carbon Drive

New CenterTrack System from Gates is the Lightest, Strongest, Cleanest Bicycle Belt Drive Ever Created
Invented by cycling innovator Wayne Lumpkin, CenterTrack is the new killer app for cyclists who prize low maintenance and premium performance

Gates Releases CarbonDriveU Web Videos to Educate Bike Shop Mechanics and Consumers about the Carbon Drive System
Five videos explain the benefits of the chain-replacing technology and how to install and maintain it.

Off the Chain! A Conversation with Record-Setting Belt Drive Cyclist James Bowthorpe
Bowthorpe uses Carbon Drive to set new record for fastest bike ride around the world.


Gates Carbon Drive Logos

Gates Carbon Drive Double Stack
Download EPS, PNG, and JPG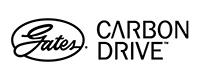 Gates Carbon Drive Double Stack Horizontal
Download EPS, PNG, and JPG





Gates Carbon Drive Horizontal
Download EPS, PNG, and JPG




Gates Carbon Drive Stack
Download EPS, PNG, and JPG



Gates Carbon Drive Website Logo
Download EPS, PNG and JPG

Visit our Gallery for photos and videos of Gates equipped bikes, and our Flickr Media Gallery for product photos.